Our Holiday deadline is December 5, 2019
Welcome to Creative Casuals!
Looking forward to helping you with all your marketing needs.
We have thousands of products on our site, but if you're looking for something and you don't see it please let us know so we can find it for you!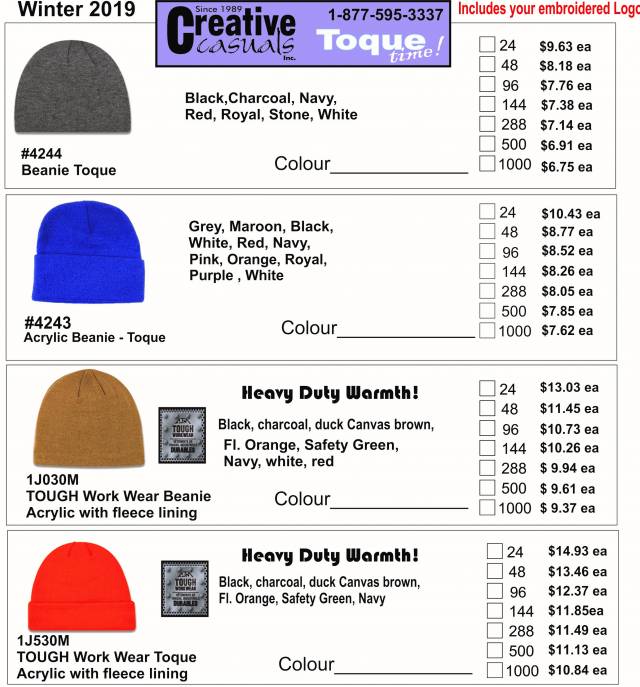 Chris Turcotte & Creative Casuals : On behalf of the 2018 Kincardine Reunion Committee I would like to thank you for all your hard work and contributions before the Reunion weekend, and especially the last minute Caesar Sunday cups. The volunteer can openers were a great hit too. It takes many people and many events to have a successful Reunion. Thank you for all you have done for us.

- Kincardine Reunion 2018 from Kincardine Reunion 2018, Kincardine Ontario
Absolutely love the team at Creative Casuals. They helped me to re-brand my company with a new logo and layout and continue to supply me with all of my apparel and stationery. I would highly recommend them to anyone looking for any branding material.

- Ole Ivo from Ivo Construction, Listowel
Creative Casuals, Thank you very much for your donation towards the bandanas at the 2018 North Perth Teddy Bear Playday. With over 1100 people in attendance, it was another successful event. We look forward to working with you again in 2019! Thank You, Debbie and Amy

- Amy Gangl & Debbie Miller from North Perth Teddy Bear Playday, Listowel Ontario
Hi Cathy, Just a quick note to say "Thank you" once again for such amazing service. The tote bags arrived yesterday and they look awesome! The golf shirts and button-down dress shirts just arrived today and they look amazing as well. Our staff is all very excited and some of them even changed into the shirts as soon as they saw them. We all look very professional and feel really great about our new staff uniforms! Even though we gave you almost no lead time, you were able to turn the order around with world-record speed, just in time for the big music "Bestival" that we're having in Belmont Village this weekend. We are all thrilled by your work and we would not hesitate to highly recommend you to anyone we know who is looking for great advertising specialities for their business. Once again, thanks for your fabulous work! Cheers Greg Sprout Chelsea Market Gregory J. Sprout, Co-Founder, 519-745-7765 (store); 519-500-3827 (cell)

- Greg Sprout from Chelsea Market, Kitchener Ontario
Just wanted to say thank you again for saving the cooler bag order! We had a lot of good comments about the cooler bags and I'm so glad you were able to find a new supplier at the last minute. Also, many positive comments about the t-shirts and how much people liked the colours. Thanks again for supplying these items for our Character Run. Look forward to working with you again next year. Patti

- Patti from Character Run, Listowel
The package arrived this evening. They are fantastic!!!!!! Many Many Thanks Could you send me a couple of your business cards in the mail. I will give them to Graham so he can connect with you if he wants to get some more items. Cheers Kimberley

-
Chris & Creative Casuals staff; Thank you for your support of the Ainsdale Golf Classic which helps to benefit Kincardine/s minor sports teams, as well as KDSS athletics.

- Ainsdale Golf Course from Ainsdale Golf Course, Kincardine Ontario
Thank you very much for supporting the Kincardine Women's Triathlon and helping to make this event possible. Your help and donation of flashing lights was greatly appreciated. Hoping for your support again next year.

- Kincardine Women's Triathlon from Kincardine Women's Triathlon, Kincardine Ontario